Photo by Jo Monck Photography
Photo: Fleur Churchill Photography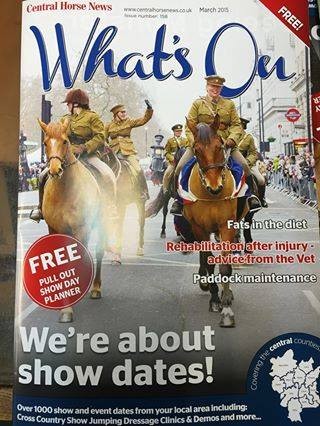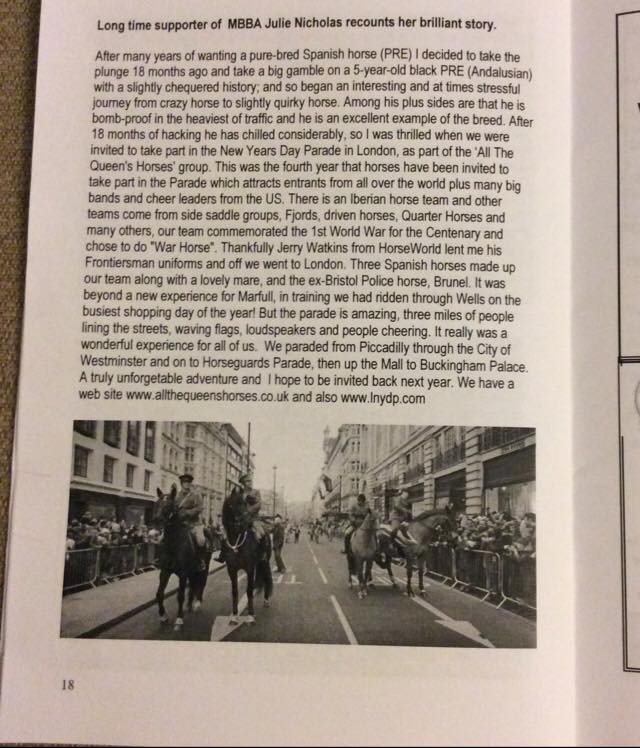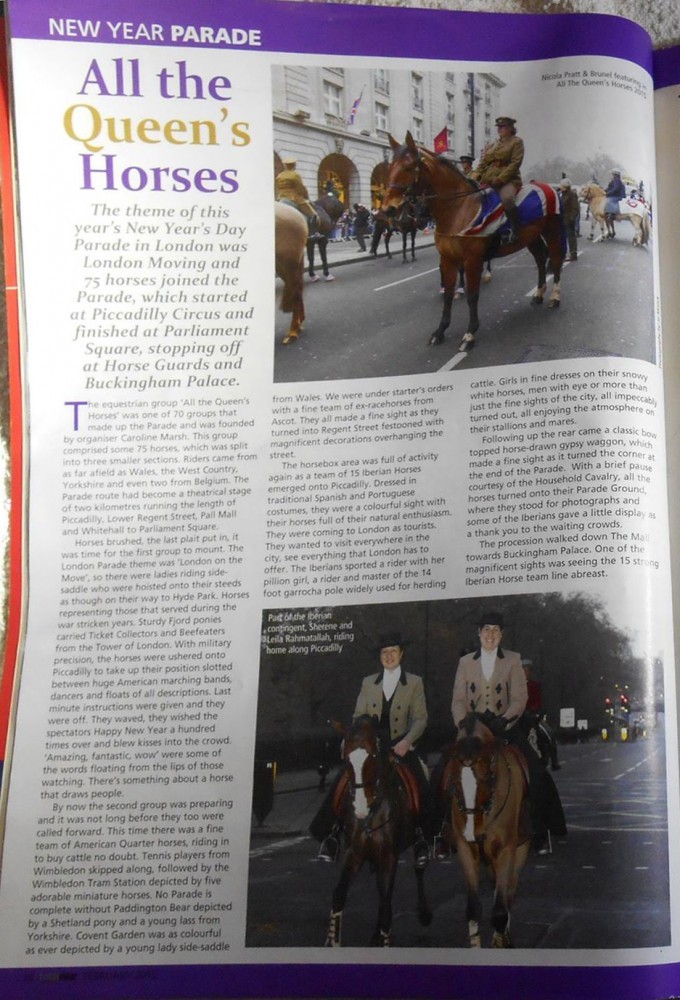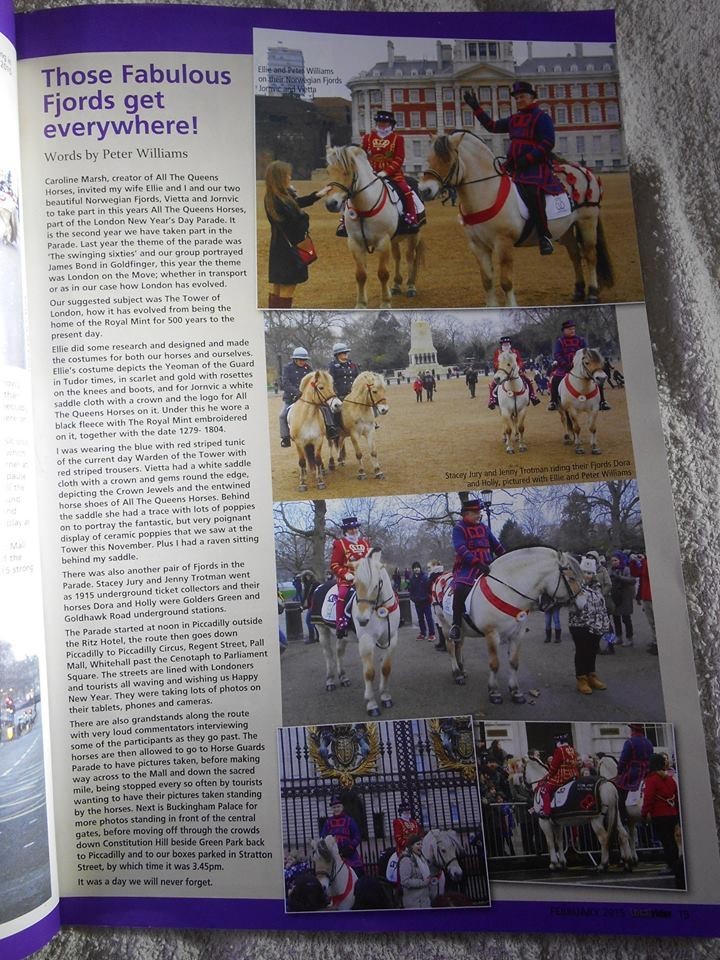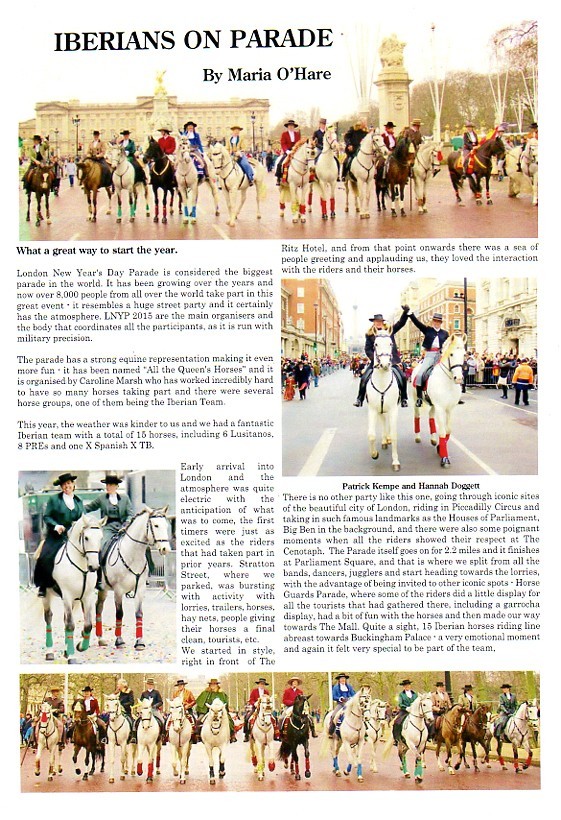 The Day of the London Parade
by Patrick Kempe.
Photo credits: Jo Monck Photography, Glenn Bryant Photography, Paul Ruffle, Sarah Weston.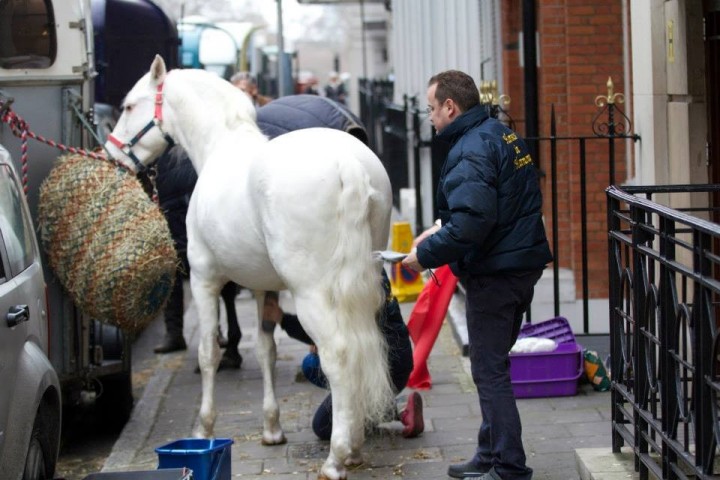 With horseboxes and trailers squeezed into their parking spots on a tiny side street, there was hustle and bustle whilst everyone prepared their horses for what has become the world's greatest New Year's Day Parade.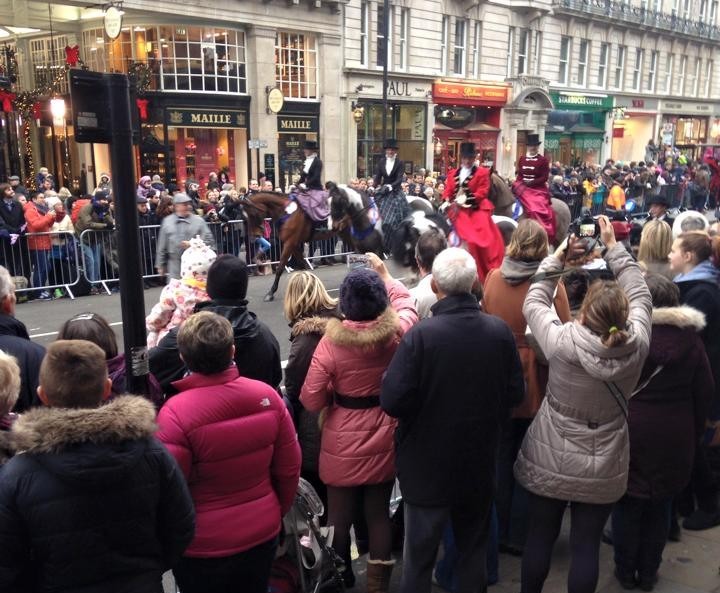 Spectators were flocking to every vantage point on the route. London was ready, let the show begin!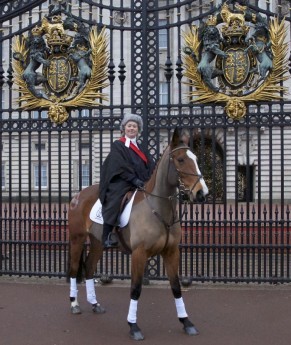 The equestrian group 'All the Queen's Horses' was one of 70 groups that made up the Parade and founded by organiser Caroline Marsh. This group comprised some 75 horses, which was split into 3 smaller sections. Riders came from as far afield as Wales, the Westcountry, Yorkshire and even two from Belgium. The Parade route had become a theatrical stage of two kilometres running the length of Piccadilly, Lower Regent Street, Pall Mall and Whitehall to Parliament Square.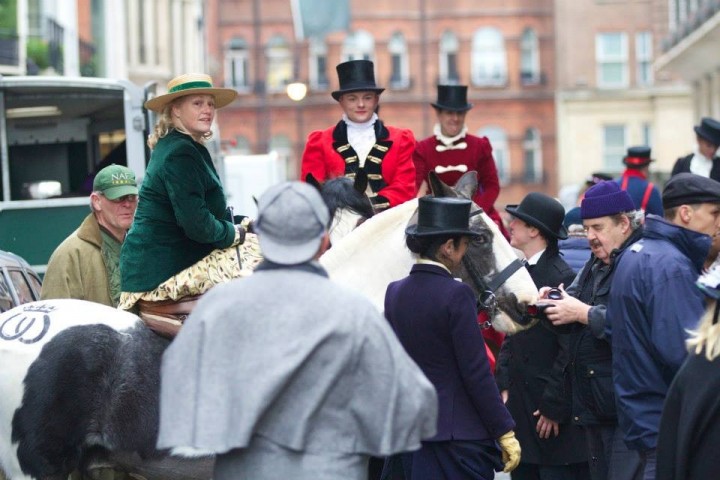 Horses brushed, the last plait put in, it was time for the first group to mount.
The London Parade theme was 'London on the Move', so we had Ladies riding side-saddle who were hoisted onto their steeds as though on their way to Hyde Park. Horses representing those that served during the war stricken years.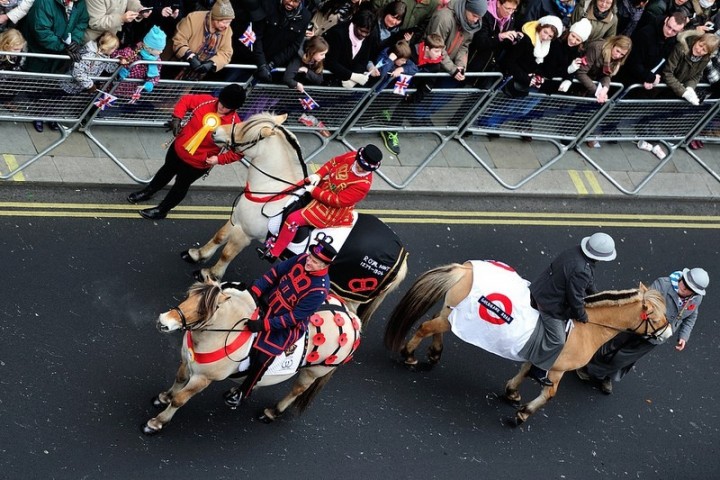 Sturdy Fjord ponies carried Ticket Collectors and Beefeaters from the Tower of London. With military precision, the horses were ushered onto Piccadilly to take up their position slotted between huge American marching bands, dancers and floats of all descriptions.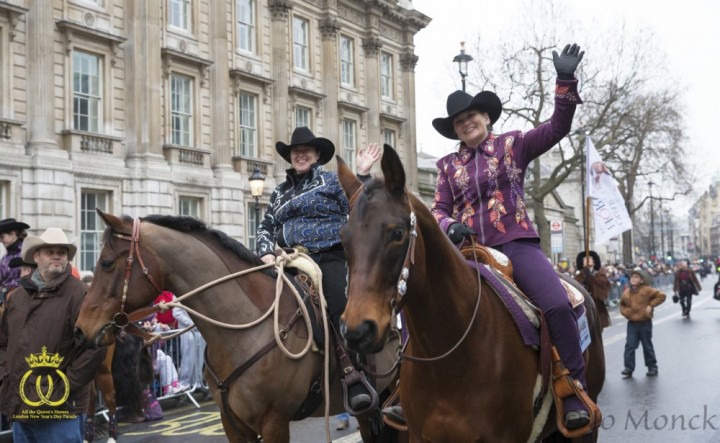 Last minute instructions were given and they were off. They waved, they wished the spectators Happy New Year a hundred times over and blew kisses into the crowd. 'Amazing, fantastic, wow' were some of the words floating from the lips of those watching. There's something about a horse that draws people.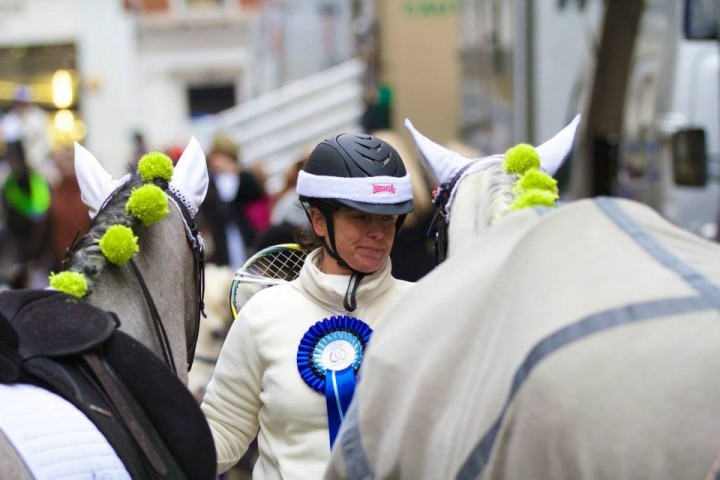 By now the second group was preparing and it was not long before they too were called forward.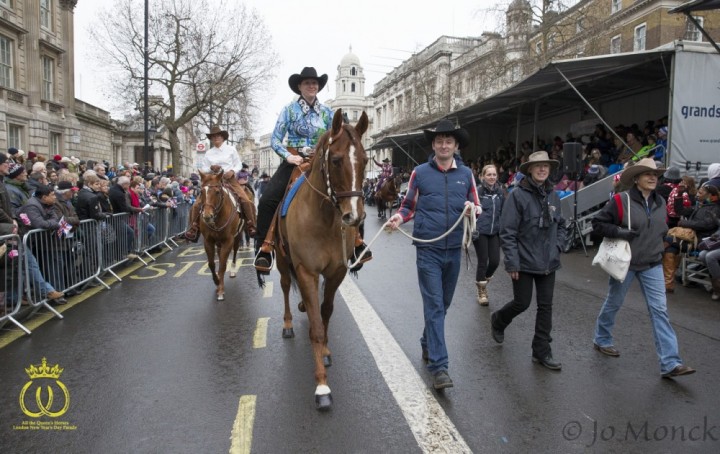 This time there was a fine team of American Quarter horses, riding in to buy cattle no doubt.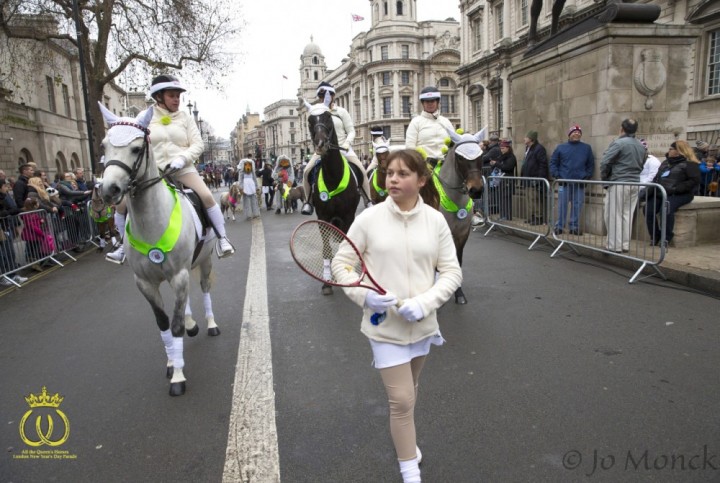 Tennis players from Wimbledon skipped along.

Then followed by the Wimbledon Tram Station depicted by five adorable miniature horses.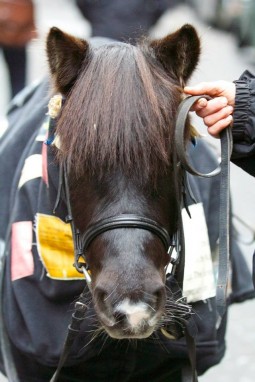 No Parade is complete without Paddington Bear depicted by a Shetland Pony and a young lass from Yorkshire.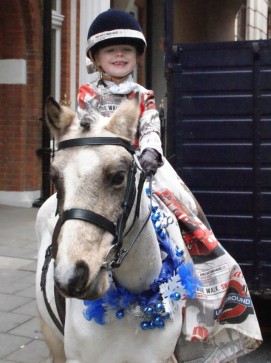 Covent Garden was as colourful as ever depicted by a young lady side-saddle from Wales.
We were under starter's orders with a fine team of ex-racehorses from Ascot. They all made a fine sight as they turned into Regent Street festooned with magnificent decorations overhanging the street.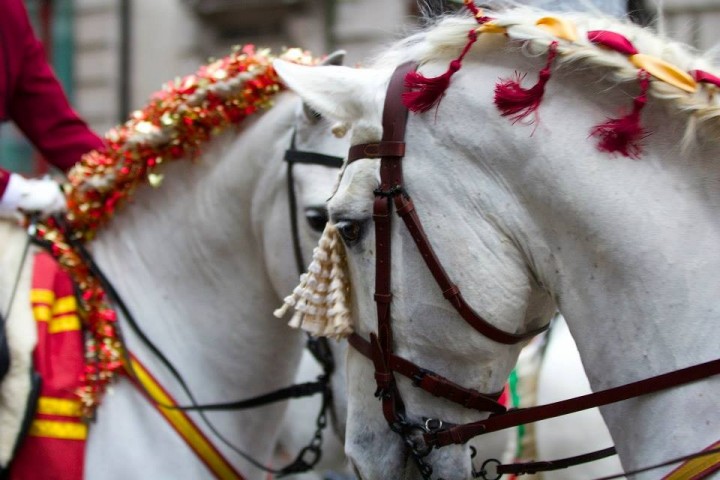 The horsebox area was full of activity again as a team of 15 Iberian Horses emerged onto Piccadilly. Dressed in traditional Spanish and Portuguese costumes, they were a colourful sight with their horses full of their natural enthusiasm. They were coming to London as tourists. They wanted to visit everywhere in the city, see everything that London has to offer. Experience the good life, savour fine food, wine and dance. There could be romance, fun and laughter as these horses parade and prance through the iconic streets of London. The Iberians sported a rider with her pillion girl, a rider and master of the 14 foot garrocha pole widely used for herding cattle. Girls in fine dresses on their snowy white horses, men with eye or more than just the fine sights of the city, all impeccably turned out, all enjoying the atmosphere on their stallions and mares.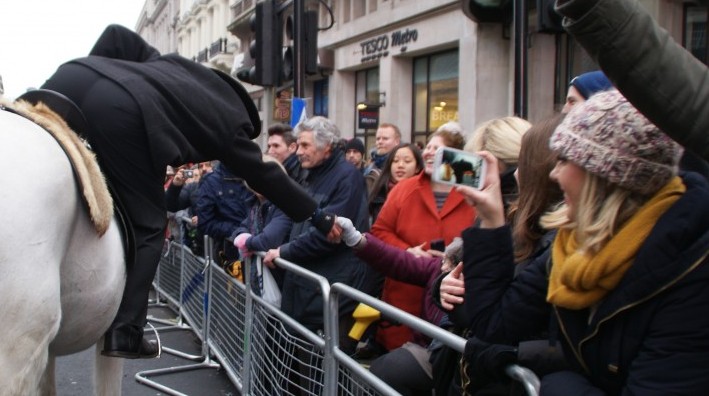 As we rode the streets, we heard shrieks of 'Look more horses' and 'we saw you last year' I think I even had a proposal! Then there was the lady in a wheel chair. I bent down to shake her hand. She used to ride, she said. One of our riders found a disabled group to chat to at one of the pauses in the parade. The crowd loved talking to our horses and hundreds of hands patted them as we rode past.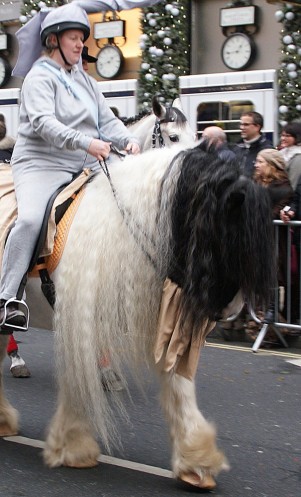 From deep underground the Elephant and Castle, emerged the most gorgeous horse, with a mane as long as most horses tails. A wonderful sight with his locks flying in the wind. His rider decked out as the elephant with trunk flying high in the air.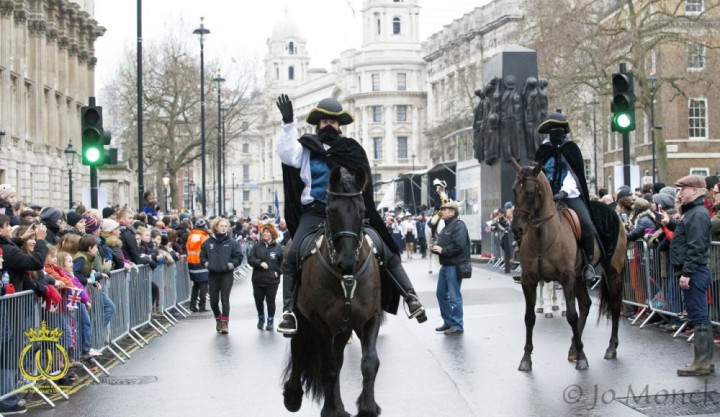 Now look out, for round the corner turning into Whitehall is the notorious Dick Turpin and his four Highwaymen of Rotten Row. Dick Turpin's horse a fine black stallion.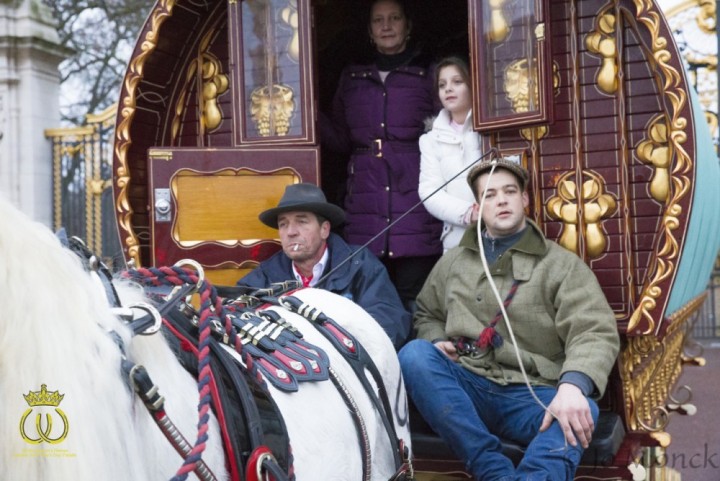 Following up the rear came a classic bow topped horse-drawn gypsy waggon, which made a fine sight as it turned the corner at the end of the Parade.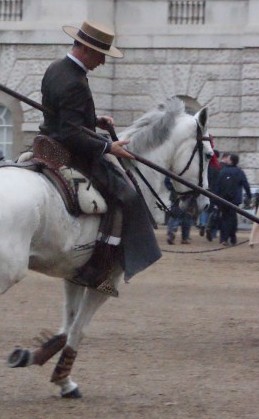 With a brief pause courtesy of the Household Cavalry, all the horses turned onto their Parade Ground, where we stood for photographs and some of the Iberians gave a little display as a thank you to the waiting crowds.

The procession walked down The Mall towards Buckingham Palace. One of the magnificent sights was seeing the 15 strong Iberian Horse team line abreast.
By now spectators were departing as the Parade was now finished. As the last horse group reached the Gates of Buckingham Palace, we had a ready-made crowd of onlookers.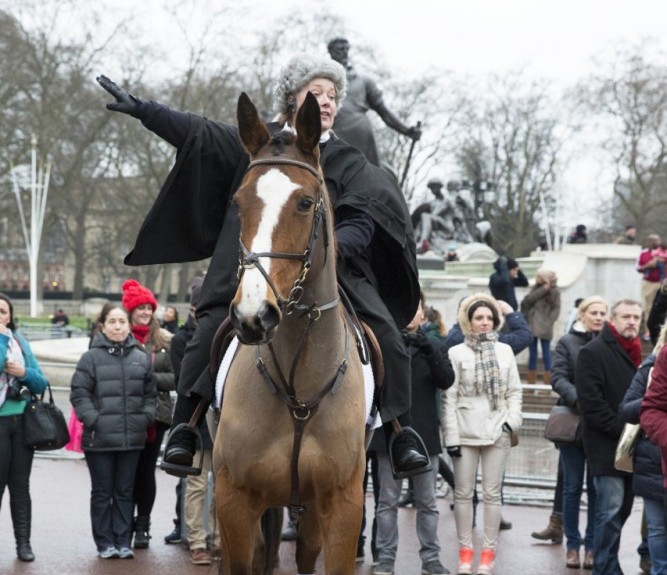 Our chief organiser, Caroline Marsh as The Lady from Chancery Lane urged the crowd to part as the horses took their place in front of these hallowed gates. Clickety click went hundreds of cameras.
Then it was away up the Green Park sandy track to return to the horseboxes and to re-live all the amazing moments of what we had just done and where we had been.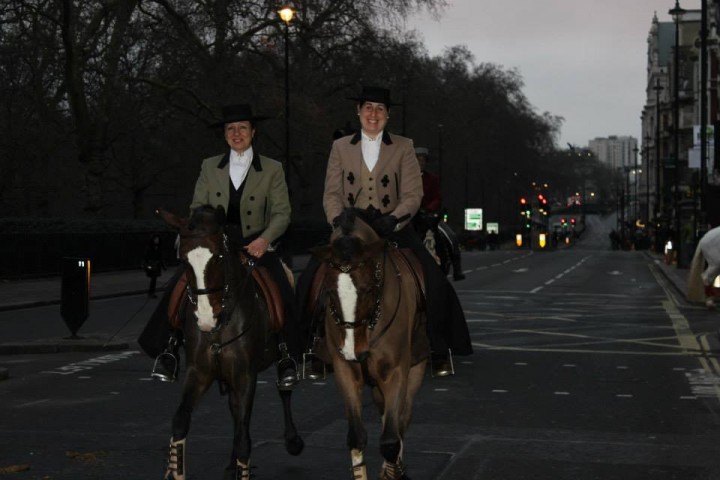 Daylight closed in as everyone tired but excited set off on their journey home. We were all exhausted but had a real rosy glow from being invited to such a prestigious event and we had a beautiful medal to remember the day by.
by Patrick Kempe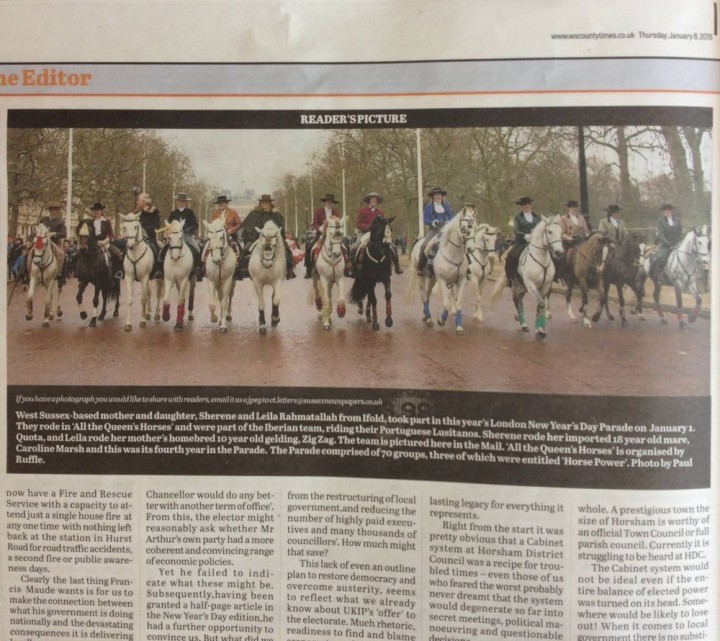 Sherene and Leila Rahmatallah sent this photo into their local West Sussex County Times newspaper.
Photo: Paul Ruffle.
Horse and Country -By Charlotte Ricca-Smith on 16th-May-2014
Neglected pony becomes showing star
A neglected pony who could barely walk has turned out to be a star in the showing arena.
Perfect pony
When Rosie came to World Horse Welfare's rescue and rehoming centres at Penny Farm in Blackpool her feet hadn't been trimmed in years. She was also suffering from laminitis.
The dun pony was carefully brought back to full health and has found a loving home with five-and-a-half-year-old Megan. According to her mum, Rosie is the "perfect pony".
"Rosie and Megan are inseparable and have been since we rehomed Rosie in 2009," said Angharad Jones. "She's just so willing and incredibly calm – perfect for my daughter.
Sleepy head
The pair had the honour of taking part in the London New Year's Day Parade 2014, where Megan was youngest ever side saddle rider to take part.
"Rosie is not fazed by anything," said Angharad Jones. "We went down to the end of the horse line at the parade and stood still where the brass bands were playing very, very loudly and Rosie went to sleep right next to the bands - typical Rosie!"
Showing success
Megan and her 17-year-old pony have also enjoyed great success in showing. At the Nefyn Agricultural Show in North Wales earlier this month they came home with a bunch of rosettes including Reserve Champion for Side Saddle and Young Handler Under 21, and two firsts in Side Saddle Concours and Young Handler Under 10.
"I am glad that World Horse Welfare gave me my pony because I love her very much – other little girls and boys should get one from World Horse Welfare too because then horses who have no homes can be happy," said Megan.
Photo gallery
- See more at: file:///C:/Documents%20and%20Settings/PC%20User/My%20Documents/A%20T%20Q%20H-%20PARADE%20INFO/Neglected%20pony%20becomes%20showing%20star%20%20%20Horse%20and%20Country%20TV.htm#sthash.D62XD6dL.dpuf