'The London Round-up' by the American Quarter Horses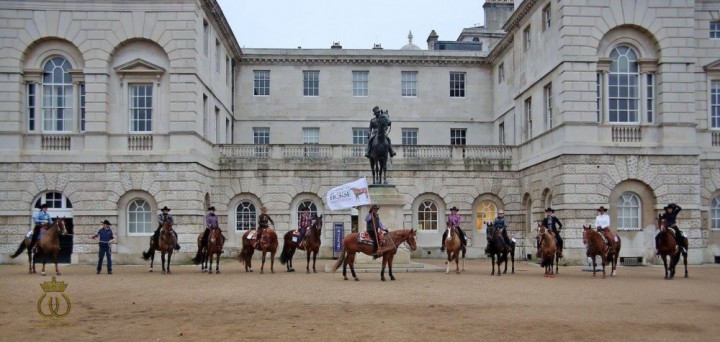 Ladies and Gentlemen, yes, the cowboys (and girls) are back in town! The American Quarter Horse is the most popular horse in America with over 5 million registered worldwide.
The Quarter Horse's history can be traced back to horses (and people) from England travelling from London's docks and other ports to the New World to colonise the USA.
They are known as Quarter Horses as they have big hind quarters and are lightening swift over a quarter of a mile! Ladies and Gentlemen, I give you the American Quarter Horse Team.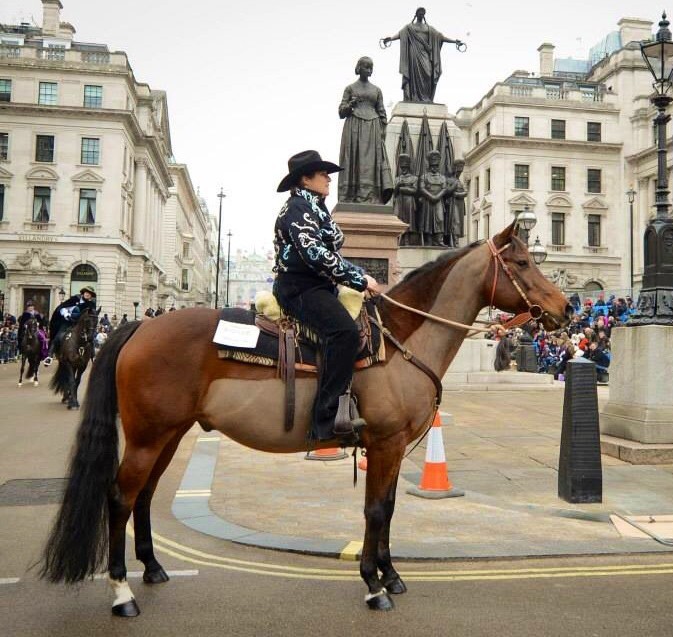 Lindsay Robinson and LJ Classic Luke. (Team Leader)
Luke is a Canadian bred 14 year old American Quarter Horse gelding, who has shown successfully with Lindsay in Canada, Germany and the UK. Lindsay has owned Luke since he was 18 months old and she nicknames him L'Oreal Luke (because he thinks he's worth it!)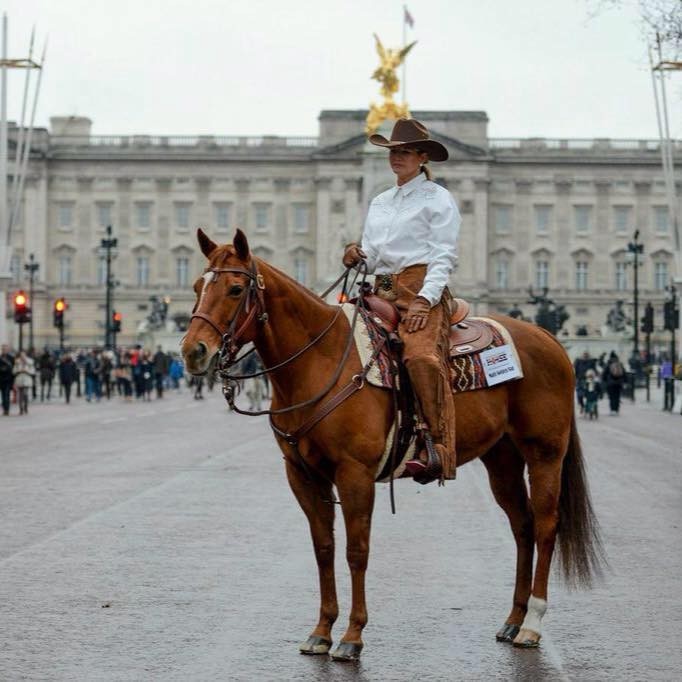 Annabelle Russell and Matts Golden Star
Annabelle has ridden since she was 4 years old and converted to Western Riding in 2002. The horse she is riding in the parade is 18 year old American Quarter Horse "Snippet" (Matts Golden Star), who she has owned for 10 years.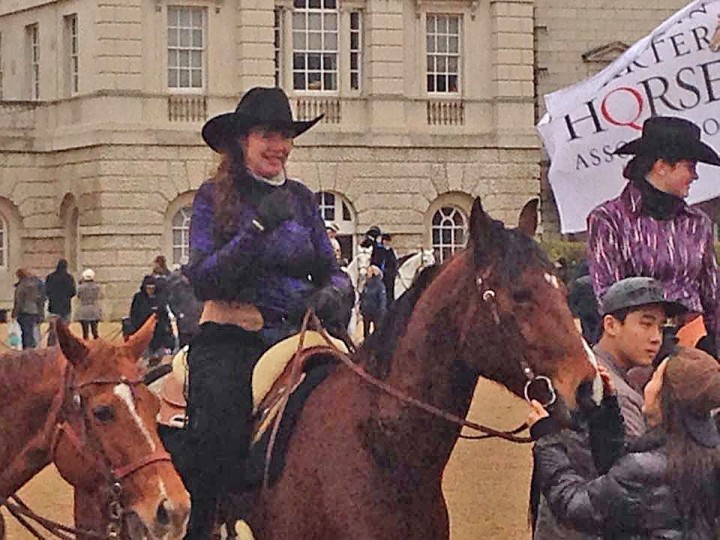 Linda Courtney and Fabulous Mr Fox
Linda has ridden since a young age. She had her first taste of Western riding just over 4 years ago and became well and truly hooked!
Fantastic Mr. Fox is a 7 year old reining and cow bred quarter horse gelding, up until last April had been in Scotland with the Charity Horseback UK being used by members of the Armed Forces as part of a rehabilitation program.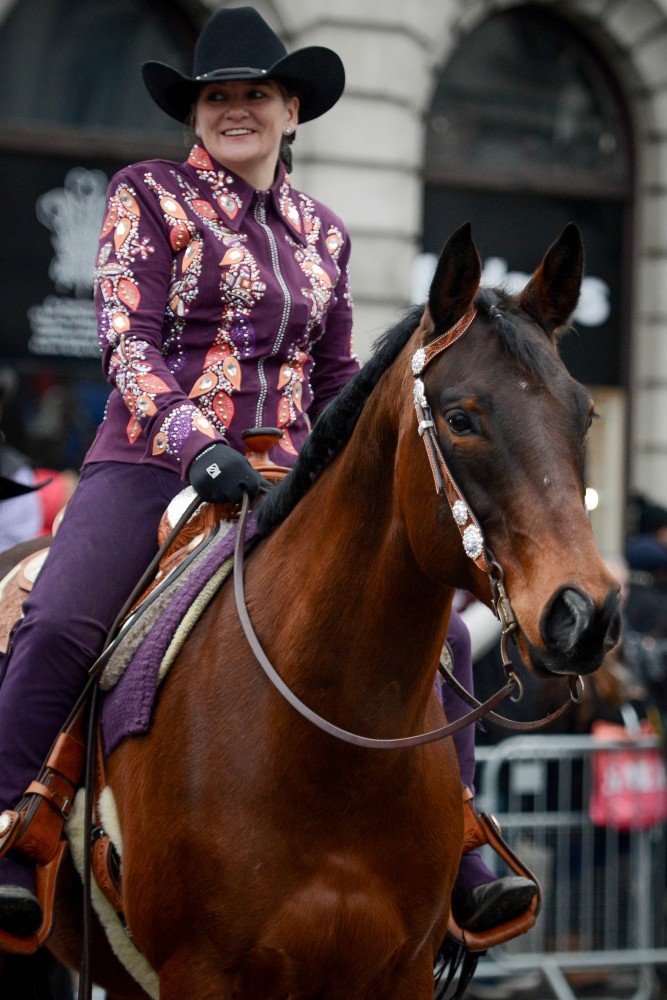 Fiona Powley and Zippin N Chippin
Fiona and her American Quarter Horse mare "Zippy" are requlars on the AQHA Show Circuit in the UK competing in Halter, Trail, Pleasure, Horsemanship and English events . Fiona is from Derbyshire and is owner of The Western Shop and Zippy is from Texas! When not competing both can be found hacking in the Derbyshire Dales.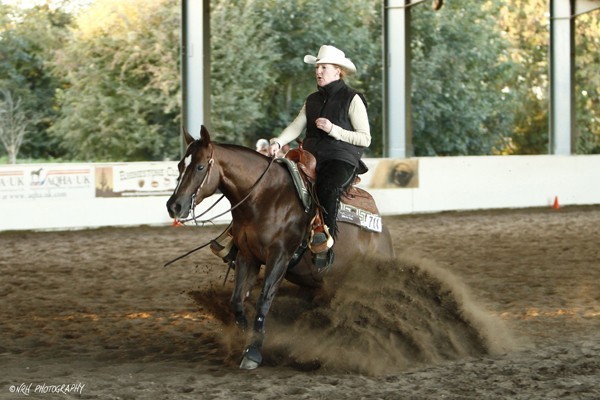 Henrietta Campbell and Bat Aviv
Ridden by Henrietta Campbell from Oxfordshire, Bat Aviv is a 10-year-old Israeli-bred Quarter Horse mare. Reining-trained and with AQHA performance points in multiple events, she was 2013 AQHA.UK Ranch Pleasure champion and has qualified twice for the AQHA World Show.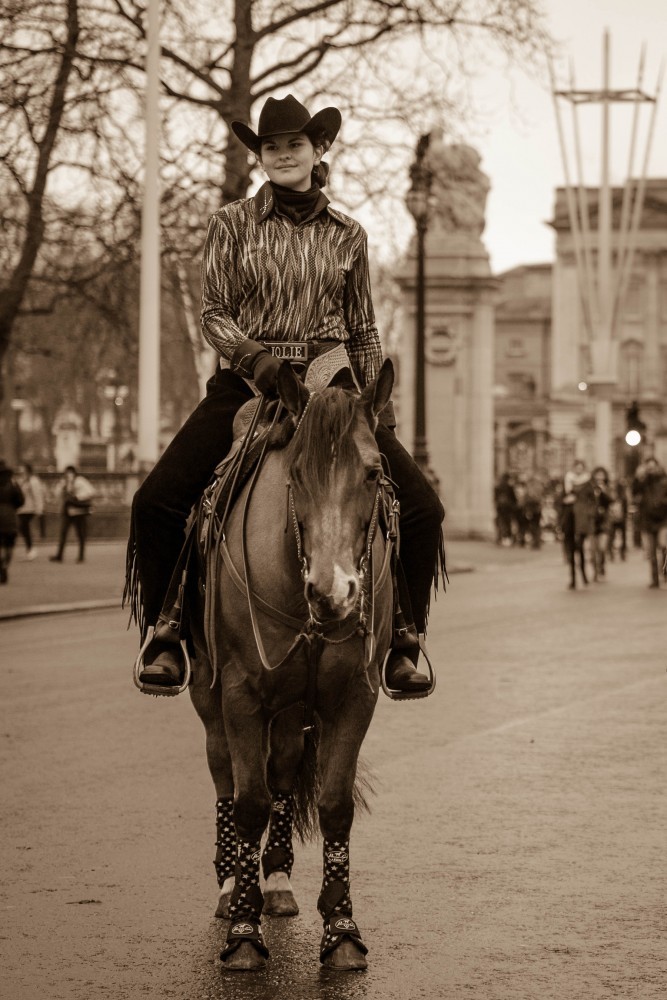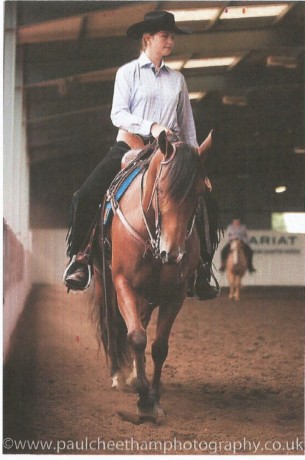 Jolie Cooper and Vanilla Fudge
Jolie is 15 years old and passionate about American Quarter Horses and Western Riding. She's had "Ada" (Vanilla Fudge) since she was a four years old. Ada and Jolie have great fun competing in western events.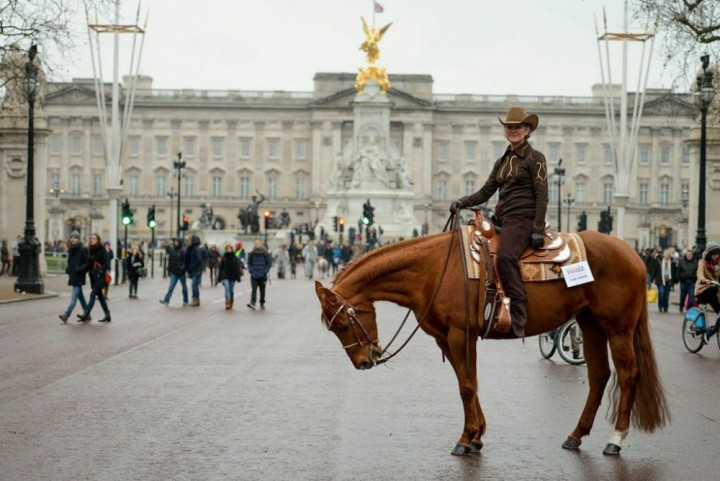 Karen Coleman and Bit Ofa Dark Horse (Buffy)
Karen has been riding Western for 5 years mainly hacking, clinics and camps. In 2014 she has been showing her young quarter horse in Halter (in hand showing very sucessfully) A Bit Ofa Dark Horse (or Buffy as she is known at home) is a well known show horse who proves the versatility of the American Quarter Horse by competing in multiple disciplines.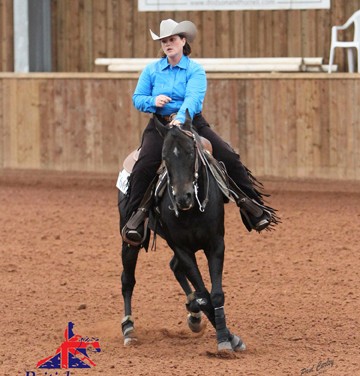 Lucy Adams and CS Texas Cat
Lucy is a professional trainer who has competed in the UK and Europe. Based in Lincolnshire, she's been riding Western since she was a small child, 14 year old American Quarter Horse Gelding T-Cat the horse she is riding in the parade is a well known show horse, who specialising in Western Reining.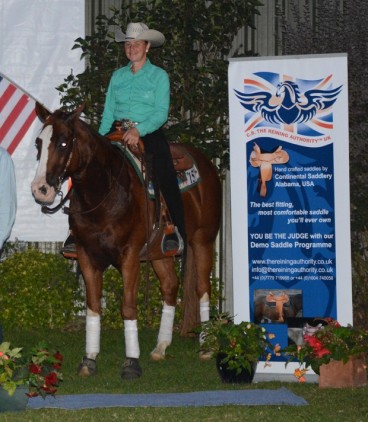 Mary Larcom and Iced Tee
Mary is a qualified Level 3 Coach and western trainer, She competes regularly in most western disciplines both nationally and internationally. She's had "Fonz" (Iced Tee) since he was a foal, and trained him herself to complete in multiple disciplines. Fonz loves meeting people and will think everyone at the Parade is there for him!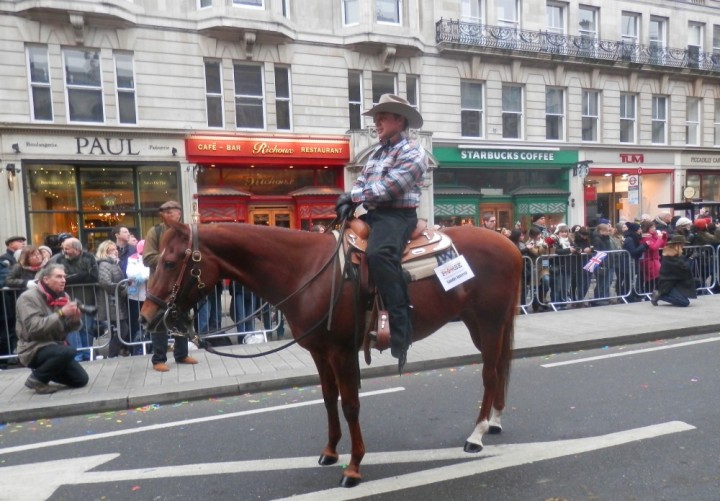 'Just waiting for his Starbuck coffee' (own photo)
Mike Austin and Sandis Interest
Mike has been riding horses all his life and working and training American Quarter Horses since 1999. "Kittie" is a home bred horse Mike says she has the typical easy going American Quarter Horse temperament.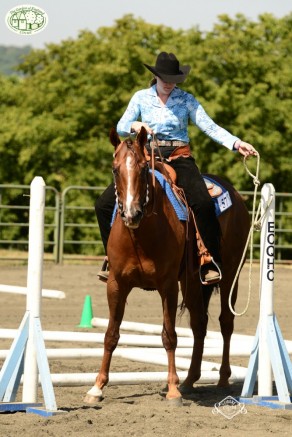 Rebecca Holt and Jack Te Higgins
Rebecca purchased Jack as a 2 year as a project to back and train herself. 5 years later and with some professional help they have achieved lots and improved their horsemanship skills together. They are proud to say they have won some awards. and Jack is a truly versatile Quarter Horse by competing in multiple western discipline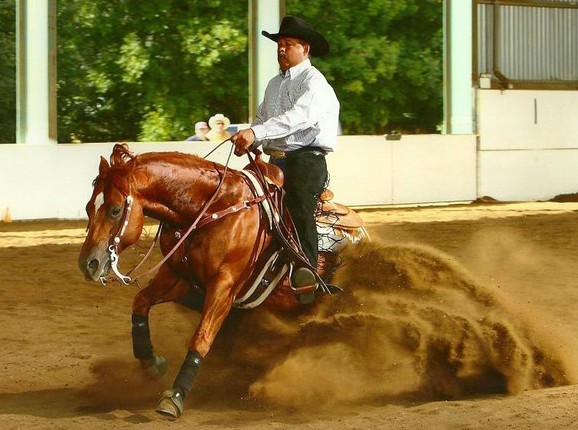 Samuel Magdaleno Ruiz riding Sue Forrest's Southearn Comfort - Quarter Horse Stallion
Southearn Comfort aka SoCo was imported into the UK by his owner Sue Forrest. He's a proven western competition horse 2007 NRHA Open Futurity Finalist Over $33,000 LTE, ridden by Open and Non Pro Riders. He stands at stud in Nottinghamshire and is ridden in the parade by his trainer, AQHA Professional Horseman, Sam Magdeleno,