The War Horses of London 1914 - 1918
This year is the first year our team have taken part in the Parade but Sarah Handscomb the team leader took part last year as a cowgirl, so it is new to all of the horses and four of the riders.
Thousands of horses have worked in London through the years, and during the First World War their importance in keeping London on the move, can not be overstated. We are proud to have a team entitled War Horse.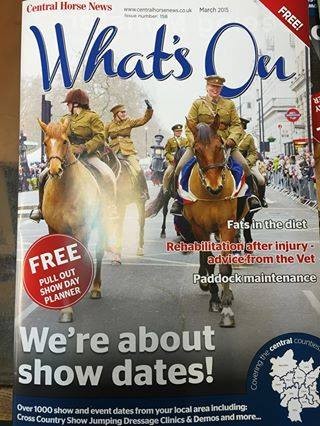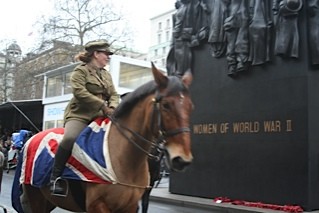 Some 500,000 horses and 8 million animals were used in battle, but many were also kept and used in London for the transportation of goods and as taxis and in the countryside to work on farms.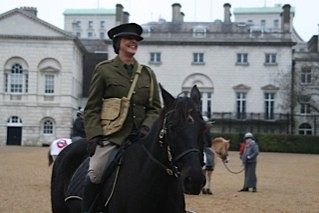 With this year's commemoration of the Centenary, and the popularity of the stage play taken from the film War Horse, we have decided to honour those animals as best we can with a War Horse themed team.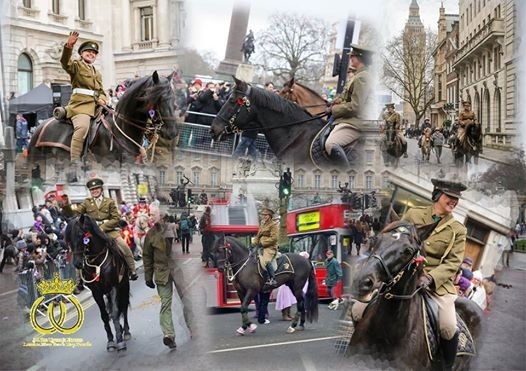 Sarah Handscombe: 2015 Parade photo collage by Glenn Bryant.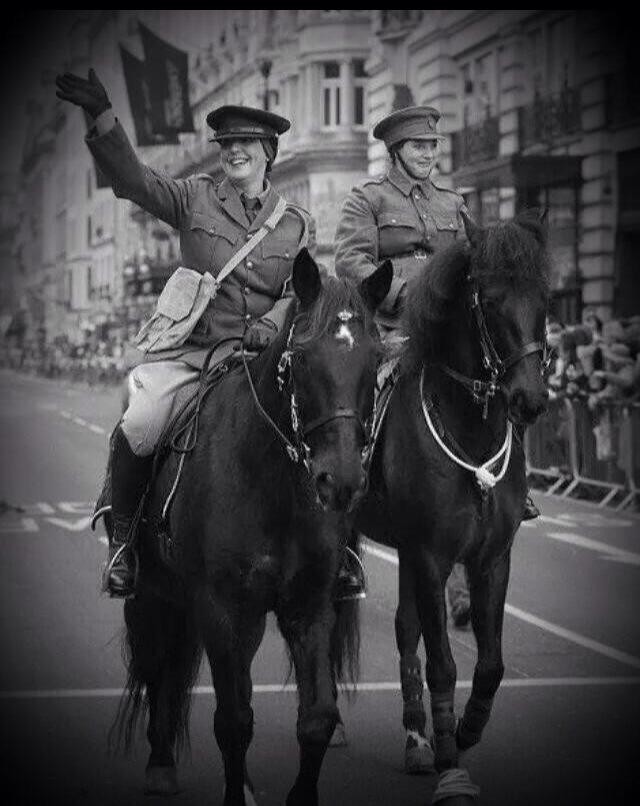 Sarah Handscombe and Julie Nicholas.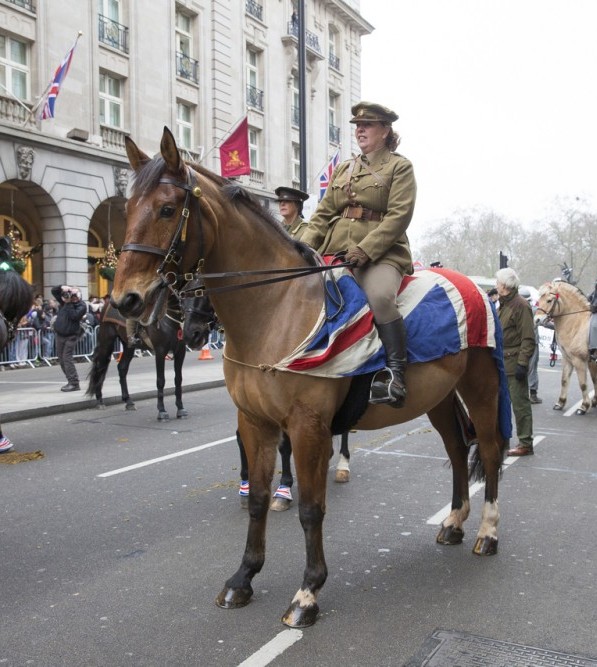 Brunel ridden by Nicola Pratt
Brunel is a retired 17.2hh police horse. I have owned him for a year now. He has spent 14 years with the Avon and Somerset police. He is now having a less hectic life and teaching my husband to ride. Brunel was in London for the Olympics, he attended Charles and Camilla's wedding, the Bristol riots and at Glastonbury to name a few.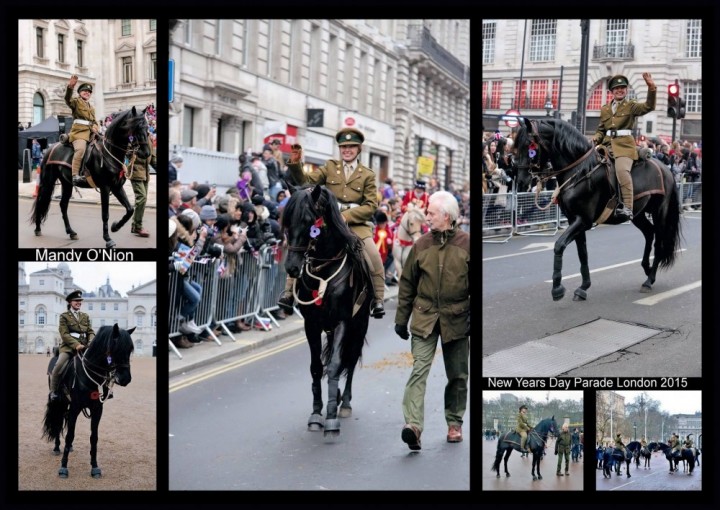 Federal Yaf ridden by Mandy O'Nion
Mandy has owned Federal for 2 years. He is a stallion and came from Spain as
just backed at 3½ years old. He is just starting to mature both
physically and mentally, and hopefully will be starting his career in
dressage later this year. He is a fabulous horse with a lovely temperament
and this is his first time at the NYDP.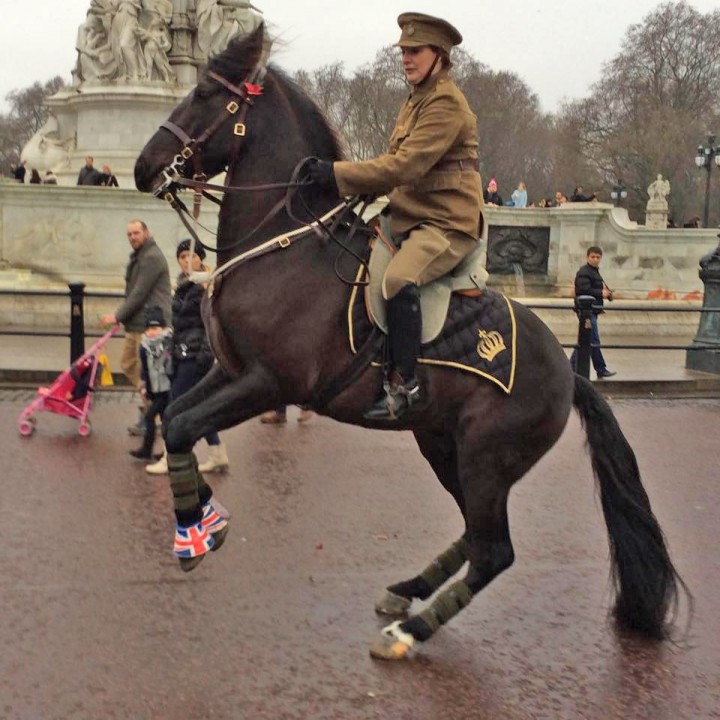 Marfull ridden by Julie Nicholas
I have owned Marfull a 16 hand black pure bred Spanish Horse for a year and a half, he is a 6 year old gelding and was imported from Spain as a two year old. We live in the Mendip Hills in Somerset where I have my own yard, and family home with my husband and three year old son. We have two other horses and two dogs. I'm an Assessor and Lecturer in Animal and Equine science and Management. Marfull and I spend our spare time hacking through the Somerset lanes, competing in dressage and having fun jumping. He is a total show off and a bit of a character and is a very important (and expensive) member of our family. This will be our first time in London.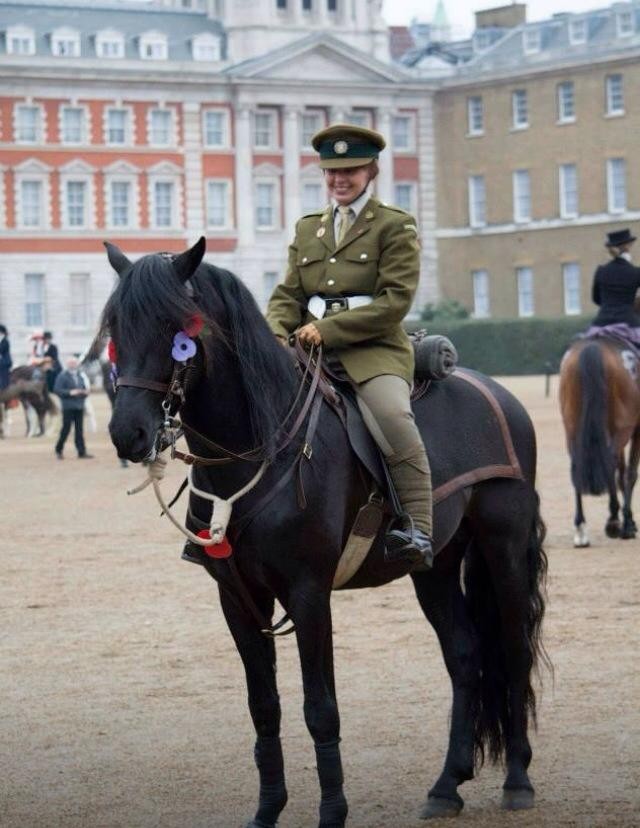 Captain Jack ridden by Sarah Handscombe
This is Captain Jack he is 18 years old imported from Spain in 2006. This was his second year in the London Parade. Jack is a pro and he needed to show the rest of the team how to do it.
I have a small shop in North Somerset called Blackrock Equestrian Accessories for horse and rider along with running our yard and looking after our horses I'm very excited to be taking part again in the LNYDP with our team war horse.
www.blackrockequestrian.co.uk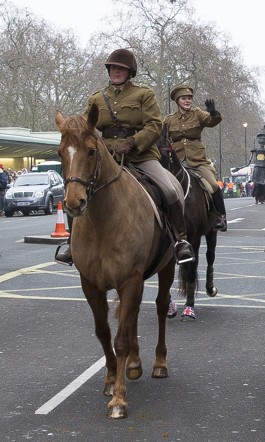 Loulou ridden by Helen Price
49 year old Helen is a mother and grandmother and works part time. Lou, her horse, is 10 years old and is a TB x cob, whom she bred. They compete in various riding club events.